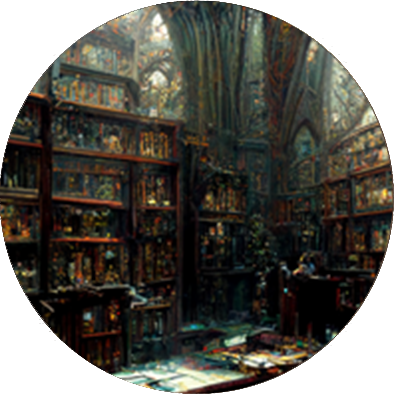 The seat of dead works, rotting on shelves of electronic dust and withering away like the bones of forgotten memories.
The Scriptorium is partial catalogue of both public and private papers, outlines and notes, online discussions, transcriptions of recorded conversations, and lectures spanning over three decades of academic, private, and personal writing in various fields of study.
The Scriptorium is a work in progress and updating irregularly.
Papers, Lectures, Transcriptions,
Online Discussions, and Outlines & Notes
Online | Archived
Published Work
Chambers Ov Reflection, forthcoming
(with Jorden Haley)
Ethereal Lake, 1995
Horror of Cresthaven Hollow, 1991 
Liber Viæ Umbræ, 1997
Pandemonium, 2004
A Study of Names, 2007
(As Johnathon Victor Reese)
Academic (Secular) Work
Essays, Papers, and Studies
Children of the Lesser Evil, 1988
The Molecular Frequency of Life, 1989
Monomyth of Mirrormask, 2007
Of Fates and Fortunes, 2008
The Pygmalion Effect and Special Education, 2017 
Anecdotes, Conversations, and Discussions
Conversations on Gilgamesh

Gilgamesh—The Hero's Journey
Gilgamesh—Examining a Woman's Role
Hell Hath No Fury
The Civilizing of Enkidu
The Friendship of Gilgamesh and Enkidu
The Importance of Dreams—Gilgamesh and Joseph
Dreams of Leadership

Discussions on Anthropology

Fear God and Ignore the Rest: A Response on Religion
Monkey Boy and Credibility: A Response on Evolution
Science and Faith: A Response on Religion

Discussions on Literature: Primary Topics

Heroic Resistance, Antigone
A Little Madness is Good for the Soul, Don Quixote
Miserable Is As Miserable Does, Thousand and One Nights
There is Healing in Her Wings, Thousand and One Nights
The Truthfulness of Myths, "Noah," "Joseph," and "Jonah"

Discussions on Literature: Responses

Literature & Religion: A Response on Thousand and One Nights
Madness and Worldviews: A Response on Don Quixote

Discussions on Abnormal Psychology

Adaptation, Breaking Borders, and the Myth of the Damaged Childhood
Breaking Down Anxiety & Depression: A Matter of Control
The Myth of Mental Illness

 Thelema w/ Bishop, Occulture Shock Podcast S2 Ep3
Research, Curiosities, & Miscellany
A Night To Remember—Reflections of a Child's Birthday
Cathedral: A Virtual Gaming Environment
Conversations with the Gene Pool
Cthulhu Fhtagn [Flash Fiction]
First Day of Kindergarten: A Parent's View
Legacy

Volume I

Prodigal
Ethereal Lake
Eye of the Beholder: Raptures of the Mad Seer
Carnival of Souls: Myths for a New Millennium
Wünderkind Hypothesis
Courting the Reaper

Volume II

State of Mind
Choking on the Apple
Family Myth
Social Morte
Innocent Blood
By the Pen, By the Sword

Volume III

Deus Ex Machina
Olympicus Spiritus
Falling off the Mountain
Omens and Portents
Paradise Remembered
Salvation Medium-Rare

Navȯmar Conlang
Nuns on the Run [Flash Fiction]
As Johnathon Victor Reese
Born of Gold, Flesh, and Fire—Journey through Synodos Logos
Daedalian Accord: Proposal and Study of Cenobitic Thelema

Dynamics of the Daedalian Accord

Four Virtues of the Accord
Seven Realms of Society
Six Relationships
Six Charismata of Endeavor

Praxis of the Daedalian Accord

Three Observances
Three Sacramental Bonds
Five Pillars of Nobility of Action
Six Precepts of Discipline
Three Rivers of Thelema
Nine Keys of Existence
Four Swords of the Pursuit of Knowledge
Five Skeins of the Mind

Fama Homo Nobilis
The Fourfold Fortress
The Synod of the Word
Thelema, ex mea sententia
ab intra A∴A∴ & Ordo Templi Orientis
Address to the Bubastis Strategy Summit Meeting
A Critical Analysis of the Class A Comment
Cutting Through The Bullshit: A Polemic 
Cycles of the Year
Feast of the Sun (A Six Course Dance of Cuisine)
Features of Systematic Thelema
The First Paradox
The Hermeneutic Journey
In the Kisses of Nu: Death of a Thelemite
Learning and Unlearning
Liber LXXIX: The Lion Gate

Qabalistic and Referential Analysis of Liber LXXIX

Manifestation of Incarnation: The Temple Design of Liber XV
Monasticism and Thelema
Monasticism in the New Aeon

Part I: Spiritual Exercises for a New Millennium
Part II: Rituals of the Elements, Feasts of the Times†
Part III: Concerning the Rule for a New Abbey of Thelema

The Monks of Thelema

The Monks of Thelema: In Theory
The Monks of Thelema: In Practice

The Myth of Thelema—A Conversation
The New Eden Trilogy

In the Garden of Knowledge
Eden Burning
From the Ashes, Paradise [Never Written]

O.T.O. A Plan For Society
Of the Mass: A New Exploration of Liber XV
On the Pursuit of Doctrinal Sanity
A Philosophical Inquiry of Thelema
Quest for a Systematic Theory of Thelema
Rule Concerning Church Sentiment
A Tableau of the Thoth Tarot
Thelema and the Sinister Path
Thelema With Teeth
A Thelemic Rosary

Reflections on a Thelemic Rosary

XI: The Inscrutable Palace

 
As Fr. Kέρβερος Δαμάζω (Kerberos Damazo)
Domus Mundi: In Pursuit of an Adeptus Exemptus Thesis
First Letters [in progress]
Letters to the Beloved Companion [in progress]

The Company of Heaven
Once and Future Kings
Gold, Steel, and Fire
Trees of Eternity
Enginery of War
Vice of Kings
Crowned & Conquering
In the Heart of Babalon
Ars Decidii: The Art of Killing a God
ab intra HeartFlame Ministries
Conversations over Coffee: A Breakfast Companion for Talk Thelema Groups 
Four Gates to One Palace
Hababi365: Through the Holy Books in a Year
Liturgy of the Sun (A Communion of Saints)
Sacraments of Kaaba House
ab intra Society for Thelemic Literature
A Critique of Crowleyan Pedagogy
An Examination of Crowley's Exegesis
An Ideological Spectrum of Thelema
In Pursuit of a Thelemic Metaphysics
Operation Doomsday: One Approach to a Thelemic Canon
As Johnathon Victor Reese
Book of Four Gates: A Reader for the Thelemic Religious
Institutes of a Thelemic Theology

Eleven Steps of Thelemic Exegesis
Rule Concerning Thelemic Hermeneutics

The Holy Books of Thelema [ISV]: A Manuscript Proposal
Thelemic Reformation: In Apology of Academic Discourse
† Outline published as "Cycles of the Year"