I made an Angel Food Cake for the very first time from scratch. It was amazing, quite frankly. I've never made an Angel Food Cake before much less one from scratch. I was quite proud of myself when it was done. The outside was nice and softly brown, the top was perfectly smooth and flat. I couldn't have done better in that regard. My only regret is that I hadn't thought ahead enough to run out and get some fresh fruit to garnish it with before taking pictures—or to serve with it when finished. It didn't last long either. About the time it was half eaten, one of the Great Danes of the house finished off the rest in one smashing success of a bite behind everyone's back. I guess it really was pretty good. Frankly, I can't remember exactly where I got the recipe, so I do apologize to the originator of this recipe, but it is totally fabulous (but I'm certainly
not
taking credit for it!). Here's how I did it.
1¾ cups granulated sugar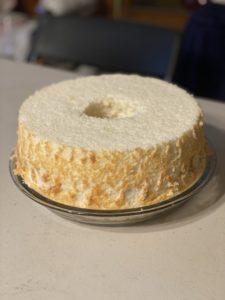 1 cup + 2 Tablespoons cake flour
¼ teaspoon salt
12 large egg whites, at room temperature
1½ teaspoons cream of tartar
1½ teaspoons vanilla extract
Adjust the oven rack to the lower middle position and preheat oven to 325°F.
In a food processor or blender, pulse the sugar until fine and powdery. Remove 1 cup and set aside to use in step 3; keep the rest inside the food processor. Add the cake flour and salt to the food processor. Pulse 5-10 times until sugar/flour/salt mixture is aerated and light.
In a large bowl using a hand mixer or a stand mixer fitted with a whisk attachment, whip egg whites and cream of tartar together on medium-low until foamy, about 1 minute. Switch to medium-high and slowly add the 1 cup of sugar you set aside. Whip until soft peaks form, about 5-6 minutes. Add the vanilla extract, then beat just until incorporated.
In 3 additions, slowly sift the flour mixture into the egg white mixture using a fine mesh strainer, gently folding with a rubber spatula after each addition. To avoid deflating or a dense cake, don't add the flour mixture all at once. Sift and very slowly fold in several additions. Pour and spread batter into an ungreased 9 or 10 inch tube pan. Shimmy the pan on the counter to smooth down the surface.
Bake the cake until a toothpick inserted comes out clean, about 40-45 minutes. Rotate the pan halfway through baking. The cake will rise up very tall while baking. Remove from the oven, then cool the cake completely upside-down set on a wire rack, about 3 hours. Once cooled, run a thin knife around the edges and gently tap the pan on the counter until the cake releases.